Want to know the best places in Pakistan to eat? Foodies pay attention!
Based on the customer feedback, let us walk you through the top 10 restaurants in Pakistan from Khyber to Karachi. We factored in food, views and overall experience. See what the customers had to say
Monal – Islamabad
Breath taking views and the ambience is great.. you can see the whole of islamabad from the top and it is advisable to arrive around sunset to get the best views. Be aware that many people wait to get a seat near the edge of the restaurant for the best views. We had individual platters and the.service was very good. There is also live music in the evening.. will return..
The food was really nice and full of flavour. The staff are really friendly and provide good service. Not to miss the amazing views of Islamabad. I would definitely recommend this place to everyone and I will be returning back soon.
Serena – Islamabad
A visit to Islamabad Serena Hotel is more than just a comfortable stay at the only 5-star deluxe hotel in Pakistan, an affiliated member of the Leading Hotels of the World. It is a vivid immersion into the culture, heritage and lifestyles of Pakistan's capital, a relatively undiscovered city boasting exhilarating scenery as well as some of the most colourful musical and culinary traditions in the world.
Clean, neat and well located hotel in the heart of the government enclave.
Staff are mostly conversant in English and service is very good.
Rooms are well proportioned and fitted out.
We unfortunately visited during a state visit from a foreign dignitary so security was on high alert but otherwise did not affect our stay, although the frankincense dis get to my colleague after a few days.
Breakfast offered was of good variety and mostly high quality.
Restaurant options are less than others (Marriott) but of a high quality.
WiFi connectivity was excellent.
Price is relatively high compared to other similar rated hotels in the region.
Overall a good stay. Would recommend the executive rooms if traveling for business.
Pearl Continental – Rawalpindi
Located on the prestigious Mall Road in the heart of this commercial & shopping cosmopolitan city, Pearl-Continental Rawalpindi hotel is just 7 kilometers away from the Benazir International Airport Islamabad. At The Pearl-Continental Rawalpindi we know you need a good work life balance and the comforts you expect away from home, therefore we ensure that your stay is hassle-free, looked after by our team of professionals who understand your needs. The Hotel provides easy access to all major banks, offices of multinational companies, shopping arcades, malls and traditional bazaars/markets
Port Grand, Karachi
Port Grand is one of the finest developments that celebrates the city of Karachi with diverse concepts in food, art, leisure, entertainment, adventure, fun and shopping, A cultural hub on Pakistan's Seaport, celebrations at Port Grand are a truly delightful experience!
An Excellent place to have Dinner beside sea at port area. Opens in evening till late night.One needs to buy a ticket which is adjusted in the amount consumed in lovely food chains. On working days the Rush is less and one can take a nice walk in the area where we enjoyed the Ships standing and container train moving beside us too.
Kolachi Restaurant – Karachi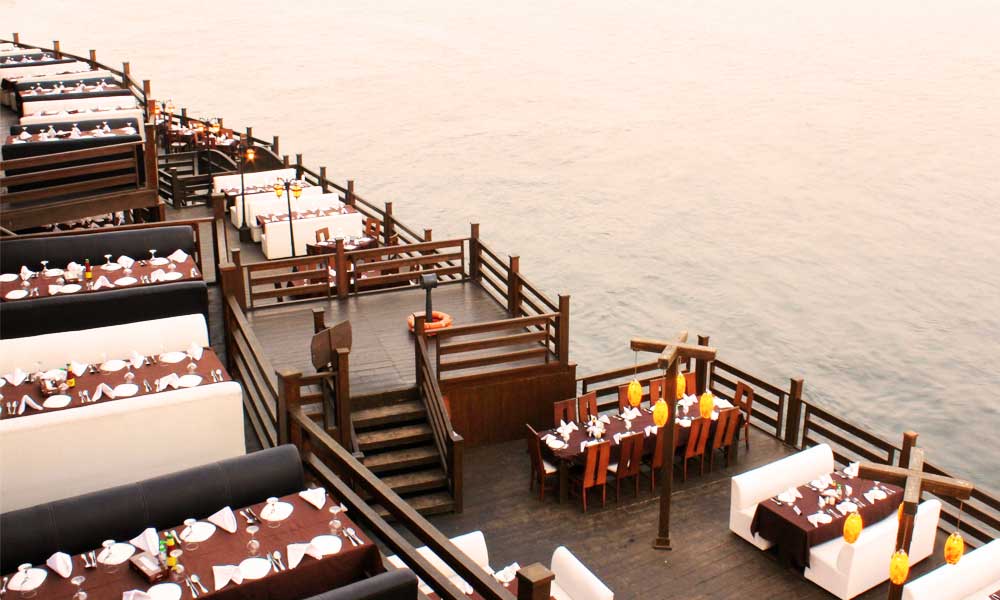 Visted last wek with friends and experienced delecious buffet food with variety of dishes. Very reasonably priced, spacious dinning area to cater large number of guests or family members but quite noisy. Restaurant service is slight week but the food quality & quantity being served subsidise this. Mutton Karahi and Kabab are extremely juicy and delecious.
Ginsoy – Karachi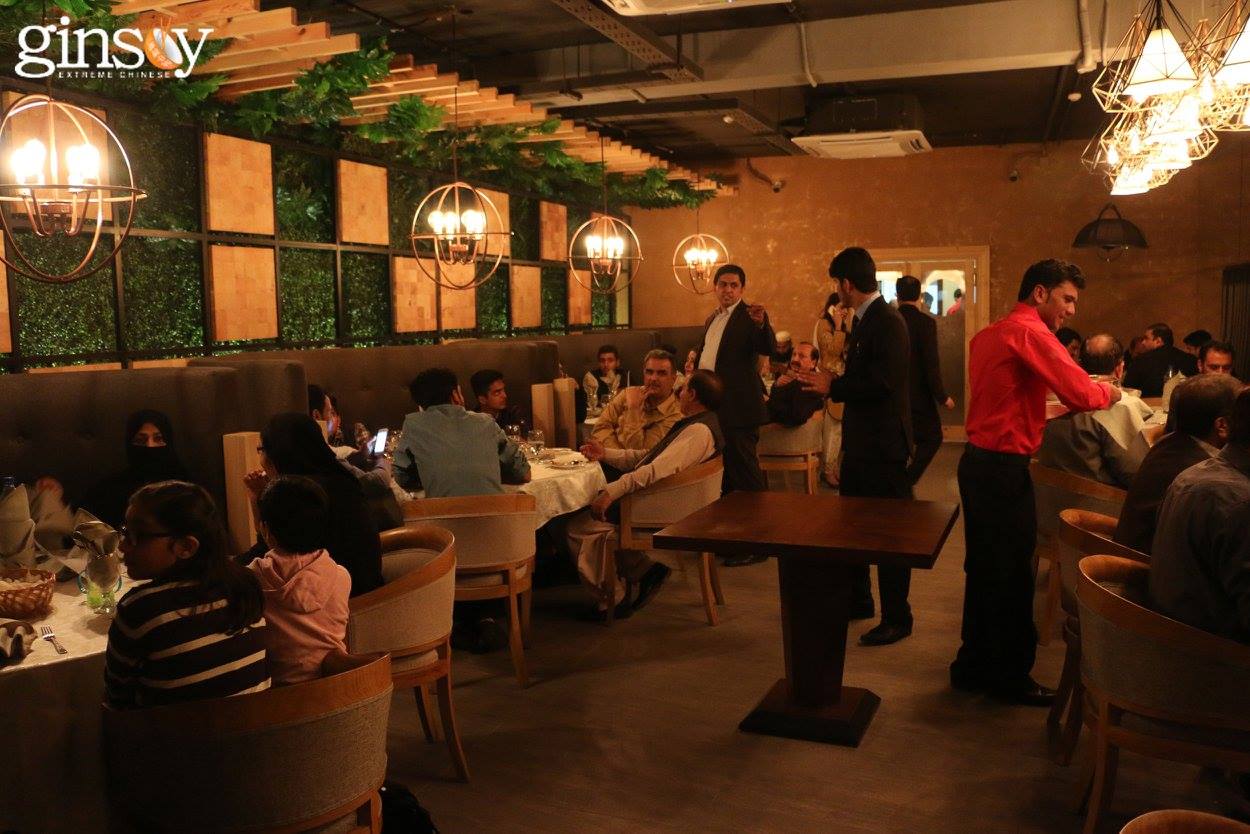 If you like chinese with local touch then Ginsoy is the place. Hot and sour soup is recommended. Dumplings are sometime available and at times not so ask the server. Cherry chicken; General Tao and Schezwan Chicken are recommended. And my favorite Beef Chilli must be tried.
Salt-n-Pepper Village, Lahore, Karachi and Multan
One of the best buffet you can have in Karachi. The food is good, tasty and well cooked. I have visited the place at numerous occasions with friends and family and has always found them maintaining the standards. With right ambiance, great service and excellent food; one tend to go for overeating requiring good workout afterwards.
Usmania – Quetta
This time in Pakistan, I made it a must to have a dinner at the best of the best, Pakistani cuisine offered by Usmania Restaurant. Though the environ isn't all that great but the food is exactly what one can expect. The spices are also moderate for even a Gora to enjoy equally. To make things even better, I was accompanied by my best friend. Prawns and Seekh Kabab were up to the mark, but too much for two of us. Usmania has grown in numbers over the years. The staff is also properly dressed and well mannered. 2 dishes are usually sufficient for 3 persons.
Food Street Shahi Qila – Lahore
A fun area to walk around and see local culture. Beautiful and colorful. We definitely could have spent more time here!
OMG. i HAD A GREAT EXPERIENCE HERE AT THIS PLACE. THE FORT SIDE FOOD STREET WAS OFFERING Hundred s of food street shops . I tasted mostl food items although i couldnt eat many i wish i could because the variety was much. try rahu fish of sardar's fish there. you will like it.
Recommended in Evening, better if you can reach there before sunset. Enter in some restaurant and get table on top roof in some restaurant like Andaz/Cucko/Haveli. Order some food and enjoy the sunset. You will also like the views after sunset especially Badshahi Mosque, Minar-e-Pakistan & Fort.
Food quality is also good, so overall it is good package of views and food.
Shangrila, Murree
Very much a family resort, tranquil and beautiful, walking distance from the famous Murree Mall. Situated in a dense jungle of Pine trees, off the beaten path. Plenty of parking, spacious play area for children , helpful and courteous staff. It is also a very popular conference destination, promising a peaceful and scenic conference hall, with all needed facilities . Lots of walking trails in the hotel, and safe secluded roads around to jog or walk in. Shangrilla Murree tends to get cold even in summer so warm clothes are always advisable. There is a very beautiful animal park close by and the chairlifts not to far away. Ideally located for a day trip to Nathagali and back.